Definition of Computer Management in the Network Encyclopedia.
What is Computer Management?
Computer Management is a collection of Windows administrative tools that you can use to manage a local or remote computer. The tools are organized into a single console, which makes it easy to view administrative properties and to gain access to the tools that are necessary to perform your computer-management tasks.
Using Computer Management, an administrator can perform the following actions on local and remote machines:
Create and manage shares
Display a list of connected users
Start and stop system services
Configure properties of storage devices
Monitor system events and application errors
Display device settings and add new device drivers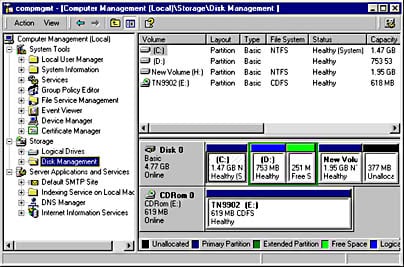 The Computer Management Console
The Computer Management console consists of a window divided into two panes. The left pane contains the console tree; the right pane contains details. When you click an item in the console tree, information about that item is displayed in the details pane. The information that is displayed is specific to the item that you select.
The administrative tools in Computer Management are grouped into the following three categories in the console tree:
System Tools
Storage
Services and Applications
System Tools
Event Viewer: Use the Event Viewer tool to manage and view events that are recorded in the Application, Security, and System logs. You can monitor the logs to track security events and to identify possible software, hardware, and system problems.
Shared Folders: Use the Shared Folders tool to view connections and resource in use on the computer. You can create, view, and manage shares, view open files and sessions, and close files and disconnect sessions.

Local Users and Groups: Use the Local Users and Groups tool to create and manage your local user accounts and groups. Local Users and Groups is available only in Windows XP Professional.

Performance Logs and Alerts: Use the Performance Logs and Alerts tool to configure performance logs and alerts to monitor and collect data about your computer's performance.

Device Manager: Use Device Manager to view the hardware devices installed in your computer, update device drivers, modify hardware settings, and troubleshoot device conflicts.
Storage
Removable Storage: Use the Removable Storage tool to track your removable storage media and manage the libraries, or data-storage systems, that contain them.

Disk Defragmenter: Use the Disk Defragmenter tool to analyze and defragment volumes on your hard disks.

Disk Management: Use the Disk Management tool to perform disk-related tasks such as converting disks or creating and formatting volumes. Disk Management helps you manage your hard disks, and the partitions or volumes that they contain.
Services and Applications
Services: Use Services to manage services on local and remote computers. You can start, stop, pause, resume, or disable a service.

WMI Control: Use WMI Control to configure and manage the Windows Management Instrumentation (WMI) service.

Indexing Service: Use Indexing Service to manage the Indexing service, and to create and configure additional catalogs to store index information.
Launching Computer Management
This computer management console can be opened by right-clicking on My Computer in the Start menu. We can also open it from the command prompt or from Run. The Run command for opening computer management is compmgmt.msc.