Definition of LINE CODING in Network Encyclopedia.
What is Line Coding?
Line Coding is a method of placing digital signals on a wire. Line coding specifies the relationship between the binary information in a data bitstream and the square-wave voltage variations on the wire that represent this information electrically.
For example, Integrated Services Digital Network (ISDN) technologies use several different line coding schemes. The U interface, which is located at the ISDN line termination point at the customer premises where a two-wire metallic cable terminates with an RJ-11 jack, uses the 2 binary, 1 quaternary (2B1Q) line coding scheme for Basic Rate Interface ISDN (BRI-ISDN) and the Bipolar with 8 Zero Substitution (B8ZS) scheme for Primary Rate Interface ISDN (PRI-ISDN) in the United States. European ISDN uses 4 binary, 3 ternary (4B3T) for BRI-ISDN and High Density Bipolar 3 (HDB3) for PRI-ISDN.
In the 2B1Q line coding scheme, a block of two binary bits can represent four different values: 00, 01, 10, and 11. These four values are mapped to one quaternary value, which is encoded using four different voltages. The first bit represents a positive or negative voltage, and the second bit represents either 1-volt or 3-volt line potential. The following table shows the four possible combinations.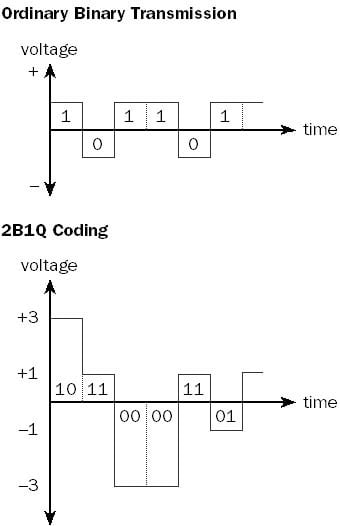 Binary Data and Corresponding Voltage Level for 2B1Q Line Coding

| | |
| --- | --- |
| Binary Data Represented | Voltage of Electrical Pulse |
| 00 | -3 |
| 01 | -1 |
| 10 | +3 |
| 11 | +1 |
The result of using 2B1Q line coding for BRI-ISDN is that a single electrical pulse represents 2 binary bits instead of 1 binary bit. This effectively doubles the possible bandwidth of the communication channel, as shown in the illustration.
NOTE
---
The term "line coding" sometimes refers to signal modulation technologies used in Digital Subscriber Line (DSL) technologies.