In the rapidly evolving world of technology, it's fascinating to look back at older tools that paved the way for today's advanced systems. One such tool was Net Watcher, a system utility in Windows 95 and Windows 98. This article dives into what Net Watcher was, how it operated, and how network resource monitoring has transformed in recent Windows versions.
Jump to: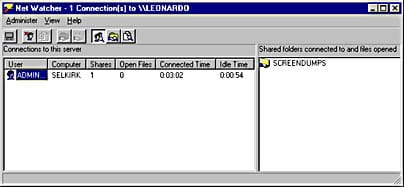 1. What Was the Net Watcher?
Net Watcher was a built-in system utility in Microsoft Windows 95 and Windows 98 designed for monitoring shared resources on other computers running the same Windows versions. It served as a rudimentary tool for administrators to keep tabs on connections, file accesses, and other network activities. Net Watcher was essentially the precursor to more powerful tools that came in later versions of Windows, like Server Manager and Computer Management.
2. How Did It Work?
To use Net Watcher, remote administration had to be enabled on the computers to be monitored. This was usually done using the Passwords utility in the Control Panel. Once set up, Net Watcher displayed all active connections to the computer, indicating the usernames, files, and printers in use, as well as the level of access granted. It allowed administrators to perform actions such as disconnecting users, closing files, creating new shares, and stopping existing shares. However, it couldn't display hidden shares.
3. Monitoring Shared Resources in Recent Windows Versions
The functionality that Net Watcher once offered has been vastly improved upon in modern Windows environments. With the advent of sophisticated tools like Windows Admin Center, Server Manager, and an array of third-party solutions, administrators can not only monitor but also manage resources with far greater granularity. These tools provide more in-depth analytics, automation features, and greater security controls, catering to the complex requirements of modern networks.
4. References
Microsoft Docs: Monitoring Tools
"Windows Command-Line Administration Instant Reference" by John Paul Mueller, ISBN-13: 978-0470650462
By revisiting Net Watcher, we appreciate how far we've come in network resource monitoring and management, shedding light on the advancements that make today's systems robust and versatile.