Definition of NWLink IPX/SPX-Compatible Transport in the Network Encyclopedia.
What is NWLink IPX/SPX-Compatible Transport?
NWLink IPX/SPX-Compatible Transport commonly referred to as "NWLink," is a Windows NT networking protocol that is Microsoft's version of IPX/SPX, the protocol used in Novell NetWare. NWLink is a 32-bit networking protocol for Windows NT. It is primarily used when:
Microsoft clients such as Windows NT Workstation require access to NetWare file, print, and application servers. Windows NT Workstation clients can access NetWare file and print services directly using Client Services for NetWare (CSNW) or through a Windows NT–based server acting as a gateway using Gateway Service for NetWare (GSNW).
NetWare clients need access to Windows NT servers. NetWare clients can access file and print services on a Windows NT server by installing File and Print Services for NetWare (FPNW) on the Windows NT server.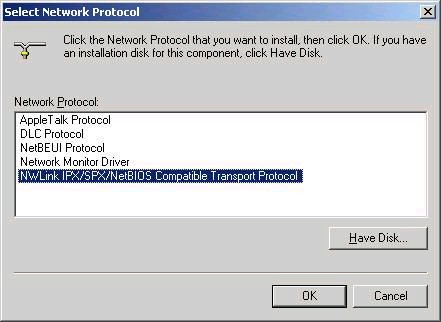 NWLink includes the following features:
TIP
If a Windows NT server or client with NWLink installed is unable to communicate with NetWare clients or servers, check the properties of NWLink to make sure you are using the same frame type as the machines running NetWare. You must also configure network numbers when using NWLink.