RSAC stands for Recreational Software Advisory Council, a nonprofit organization with a content advisory system for Web sites on the Internet. The system, known as RSACi (Recreational Software Advisory Council on the Internet), allows Web site administrators to rate their sites according to degrees of potentially objectionable content. There are four types of content, each with five levels, rated from 0 to 4.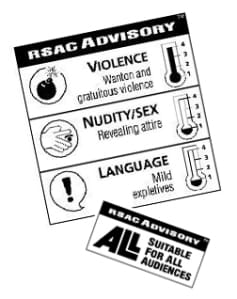 The content areas are as follows:
Sex
Nudity
Violence
Offensive language
By rating their Web sites according to the RSACi system, Web site administrators can help adults protect children from content that might be objectionable. Microsoft Internet Explorer has built-in client support for the RSACi system, which is administered using a password-protection scheme.
History of RSAC
In 1993, senators Herb Kohl and Joseph Lieberman raised concerns over the levels of violence and other adult material appearing in video games that were available to children. Under threat of government regulation, industry groups like the Software Publishers Association (SPA), the Association of Shareware Professionals (ASP), and others had concerns about the intrusion of the government, and the costs, delays, and subjective judgments of a review-committee-based system.
At the time, the largest trade group, the SPA had few members in the gaming field, but the ASP had many, and the two organizations decided to work together. Mark Traphagen (an attorney with the SPA)[1] and Rosemary West (ASP board member) appeared before Congress in the summer of 1994 in support of the SPA representation.
The SPA and ASP (and other industry groups) were opposed to an age-based rating system operated by a review committee as developed by the ESRB, which was proposed by several multi-national console game manufacturers and distributors. The groups preferred a content labeling system that would allow parents to know what was in the games and then make their own judgments about what their children would see.
The organization was closed in 1999 and reformed into the Internet Content Rating Association (ICRA). In October 2010, the ICRA rating system, and the organization, was discontinued.
In 2007, Family Online Safety Institute (FOSI) was created and subsumed the Internet Content Rating Association (ICRA) and its day-to-day operations. ICRA developed and implemented a content labeling system that allows webmasters to clearly and accurately label their websites. These labels identify content in accordance with criteria developed by an independent third party. In accordance with FOSI goals, ICRA does not serve to rate the content of websites. ICRA provides the labeling system and encourages content providers to self-rate.
External references