A Workgroup (in Windows Networks) is a logical grouping of networked computers that can share resources with each other. These resources might include files, printers, and other devices. A workgroup is often called a peer-to-peer network because all computers in a workgroup are equally important. In other words, no single computer "runs the network," as in a domain-based model.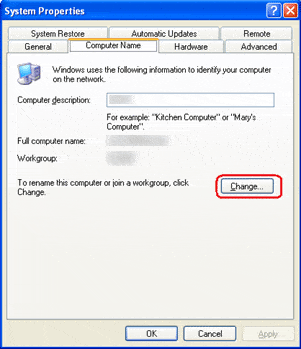 How Workgroup Works
Each computer in a workgroup handles security separately using its own local security database, which tracks who can log on to the computer and what rights or permissions users have to resources on the computer. A user who wants to log on to a computer must have an account in that computer's local security database. A user with an account on one computer doesn't necessarily have any permissions or rights to resources on other computers.
If a computer in a workgroup is used to provide file, print, or other resources to other computers in the workgroup, that computer is generally called a peer server or a stand-alone server. Because security is local to each computer in a workgroup, a peer server can share resources using share-level security only, which uses passwords to protect access to each resource. Users who know this password can access the resources at the level of access with which it is shared (such as read-only access, full access, and so on).
Workgroups are simple to implement but hard to maintain. Administrators must create accounts on each computer for the users who need access to them. As a result, workgroups are generally used for small networks of 10 or fewer computers in which security and centralized administration are not an issue.
HomeGroup removed from Windows 10
HomeGroup has been removed from Windows 10 (Version 1803). However, even though it has been removed, you can still share printers and files by using features that are built into Windows 10.
Here's more info about what's changed and what hasn't.
What's changed?
After you update your PC to Windows 10 (Version 1803):
HomeGroup won't appear in File Explorer.
HomeGroup won't appear in Control Panel, which means that you can't create, join, or leave a homegroup.
HomeGroup won't appear on the Troubleshoot screen when you go to Settings  > Update & Security  > Troubleshoot .
You won't be able to share new files and printers using HomeGroup.
The HomeGroup (view) and HomeGroup (view and edit) options still appear in Windows 10 (Version 1803 or later) when you right-click a folder in File Explorer and then point to Give access to. However, neither option does anything. To share a file or folder, select Specific people from the same shortcut menu instead. 
What hasn't changed?
Any folders, files, or printers that you previously shared using HomeGroup will continue to be shared. This means that:
Shared network folders will still be available. You can open them in File Explorer by typing the name of the PC and the shared folder name in this format: \\homePC\SharedFolderName
If one user account was set up on a PC for sharing, you can continue using that one account for sharing.
You can still get to any shared printers through the Print dialog box.