Definition of AS/400 in Network Encyclopedia.
What is AS/400?
AS/400 stands for Application System/400, a midrange IBM server computing platform for business computing. AS/400 uses 64-bit RISC technology, supports Systems Network Architecture (SNA), and runs the OS/400 operating system.
Traditional SNA user interfaces to AS/400 systems use either text-based 5250 terminals or desktop PCs running 5250 emulation software. But IBM has released a version of OS/400 that turns the AS/400 into a Web server and allows AS/400 applications to be interfaced using TCP/IP from a standard Web browser such as Microsoft Internet Explorer.
IBM AS/400
The AS/400 was originally based on a custom IBM CISC CPU which had an instruction set architecture, known as Internal MicroProgrammed Interface (IMPI), similar to that of the IBM System/370. It was later migrated to a POWER-based RISC CPU family eventually known as RS64.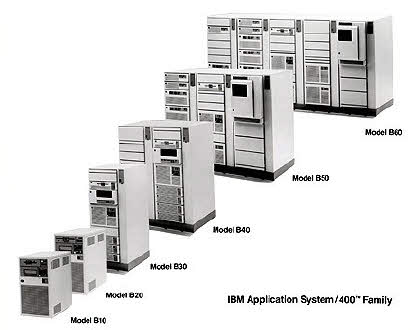 History of IBM AS/400
On June 21, 1988, IBM introduced the Application System/400 (AS/400), a new family of easy-to-use computers designed for small and intermediate-sized companies. As part of the worldwide introduction, IBM and IBM Business Partners worldwide rolled out more than 1,000 software packages in the biggest simultaneous applications announcement in computer history.
Seen here are the AS/400 B-series models (IBM 9404 and IBM 9406), which illustrate the varying sizes and configurations available in the initial offering.
The AS/400 quickly became one of the world's most popular business computing systems. By 1997, IBM had shipped nearly a half-million AS/400s. The 400,000th AS/400 was presented on October 9, 1996, in Rochester, Minn., to Greg LeMond, the three-time winner of the Tour de France bicycle race and a small business entrepreneur.
The AS/400 family was succeeded in 2000 by the IBM eServer iSeries — high-performance, integrated business servers for mid-market companies.
Are you curious to watch IBM AS/400 working?