Definition of Control Panel in Network Encyclopedia.
What is Control Panel (in Windows operating system)?
Control Panel is a Microsoft Windows feature consisting of a number of utilities for configuring hardware devices and operating system services.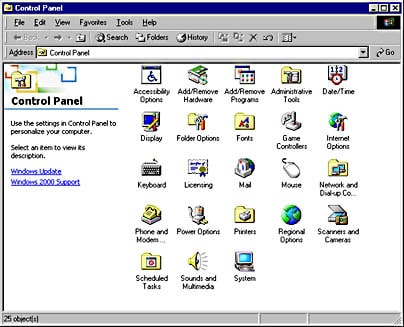 The following table shows some of the more common Control Panel utilities in Windows 95, Windows 98, Windows NT, and Windows 2000 and briefly describes their function. Note that some utilities are named differently in the various Windows versions, such as 32-bit ODBC for Windows NT and ODBC (32 bit) for Windows 95 or 98; these utilities are listed separately here. Note also that some Control Panel utilities are present only when additional Windows components have been installed. For example, the GSNW utility is present only when Gateway Services for NetWare has been installed. Finally, installing additional third-party software can add new utilities to Control Panel associated with that software.
Common Control Panel Utilities
Control Panel Utility
Function
Windows 95 and 98
Windows NT
Windows 2000
32-bit ODBC
Database connectivity
 
x
x
Accessibility Options
Help for visually or motor-impaired individuals
x
 
x
Add New Hardware
Hardware installation wizard
x
 
 
Add/Remove Hardware
Hardware installation wizard
 
 
x
Add/Remove Programs
Installs new software or Windows components
x
x
x
Administrative Tools
Shortcut to Administrative Tools program group
 
 
x
Console
Command prompt window
 
x
 
Date/Time
Date, time, time zone
x
x
x
Desktop Themes
Configures the appearance of desktop
x
 
 
Devices
Startup profiles for hardware devices
 
x
 
Dial-Up Monitor
Monitors RAS connections
 
x
 
Display
Screen and desktop settings
x
x
x
Folder Options
Enables Active Desktop and determines how folders are displayed
 
 
x
Fonts
Installs new fonts
x
x
x
Game Controllers
Configures joysticks
x
 
x
GSNW
Gateway Services for NetWare
 
x
x
Internet
Internet Explorer options
x
x
 
Internet Options
Internet Explorer options
 
 
x
Keyboard
Style and response rate
x
x
x
Licensing
Changes licensing mode and configure replication
 
x
x
MacFile
Services for Macintosh
 
x
 
Mail
Messaging profiles
x
x
x
Message Queuing
Configuration options for Microsoft Message Queue Server
 
 
x
Modems
Modem settings
x
x
 
Mouse
Mouse settings
x
x
x
Multimedia
Audio/video settings
x
x
 
Network
Networking clients, services, protocols, and adapters
x
x
 
Network and Dial-up Connections
Creates and configures network connections
 
 
x
ODBC (32-bit)
Database connectivity
x
 
 
Passwords
Configures passwords, enables remote administration, and enables user profiles
x
 
 
PC Card
Settings for PCMCIA cards
x
x
x
Phone and Modem
Modem and TAPI location settings
 
 
x
Ports
COM port settings
 
x
 
Power Management
Advanced power management settings
x
 
x
Power Options
Advanced power management settings
 
 
x
Printers
Adds printer wizard and manages printers
x
x
x
Regional Options
Currency and other settings for countries
 
 
x
Regional Settings
Currency and other settings for countries
x
x
 
Scanners and Cameras
Configures these devices
 
 
x
Scheduled Tasks
Schedule system management tasks
 
 
x
SCSI Adapters
SCSI device settings
 
x
 
Server
Server role
 
x
 
Services
Starting and stopping services
 
x
 
Sounds
System sounds
x
x
 
Sounds and Multimedia
Audio/visual hardware/software and system sounds
 
 
x
System
Boot, file system, profiles, devices, environment, network identification, and so on (depending on the version of Windows)
x
x
x
Tape Devices
Tape drive settings
 
x
 
Telephony
TAPI location settings
x
x
 
UPS
Uninterruptible Power Supply settings
 
x
 
Users
User profiles
x