FAT32 Conversion Utility was a utility included with Microsoft Windows 98 that allowed users to convert existing file allocation table (FAT) volumes to FAT32 volumes without reformatting. FAT32 conversion utility can increase the performance of the disk storage system when larger partitions and drives (those larger than 512 MB) are used.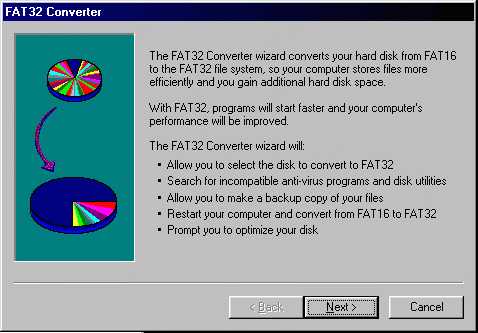 This utility could be run by choosing Programs, Accessories, System Tools, and Drive Converter (FAT32) from the Start menu. The utility provides a graphical user interface (GUI) for converting FAT16 volumes to FAT32. Running the conversion utility prompts you to select a drive letter to convert, after which the system restarts in MS-DOS mode. The system is then checked using Scandisk, and the drive is converted.
TIP
---
At the completion of the conversion, Disk Defragmenter is configured to run upon the next reboot of the system. Do not interrupt the defragmentation process, because performance of the converted volume will likely be poor if the volume is not completely defragmented.
How to Convert a Drive to FAT32
Before you convert to the FAT32 file system, uninstall any utilities or tools that protect or encrypt the Master Boot Record (MBR) or partition table (for example, uninstall Bootlock included with Symantec Norton Your Eyes Only).
Click Start, point to Programs, point to Accessories, point to System Tools, click Drive Converter (FAT32), and then click Next.

In the Drives box, click the drive you want to convert to the FAT32 file system.

Click Next, and then click OK.

Click Next, click Next, and then click Next again.

When the conversion is complete, click Finish.