Windows 98 was Microsoft's upgrade for users of Windows 95 and earlier versions of Microsoft Windows operating systems.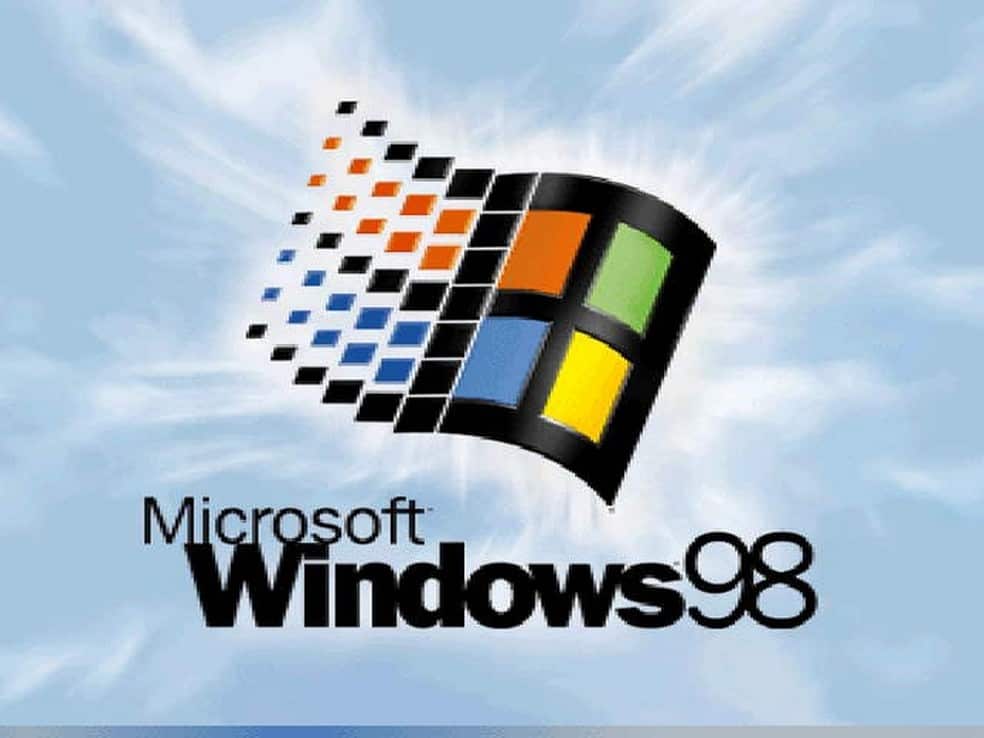 With the code name Memphis, Windows 98 was released on June 25, 1998. Like its predecessor W95, Windows 98 was a hybrid 16-bit and 32-bit product with the boot stage based on MS-DOS.
Windows 98 new features
Windows 98 included the following new features:
A Web-aware user interface that allows Web-like views of local resources and a single tool for browsing local, network, and Internet resources
Integrated Internet software including Microsoft Internet Explorer, Outlook Express, NetMeeting, Personal Web Server, FrontPad, and NetShow
Windows Update Manager for accessing the Internet to download enhancements and fixes to Windows 98
Improved networking support with a faster TCP/IP protocol stack, improved dial-up networking, and support for virtual private networking
Support for FAT32 drives and a FAT32 conversion utility
Maintenance Wizard for scheduling system maintenance utilities and other new utilities that simplify administration of computers running Windows 98, including the Microsoft System Information utility, System File Checker, Registry Checker, and Windows Scripting Host (for running administrative scripts from the desktop)
Support for digital versatile disc (DVD) and for multiple monitors on a single computer
Support for universal serial bus (USB), FireWire (IEEE 1394), and infrared wireless connectivity based on Infrared Data Association (IrDA) standards
Support for DirectX 5.0 and OnNow instant-on technology
Built-in Remote Access Service (RAS) for remote dial-up clients
HTML-based online help
Improved versions of many Windows 95 tools and utilities
System requirements
486DX/66 MHz or Higher processor
16 MB of RAM
Approximately 195 MB; can take up to 295 MB of hard drive space
CD-ROM or Floppy
Standard sound card for sound capability.
VGA or higher-resolution
100% compatible Microsoft keyboard and Mouse
Windows 3.x, 3.1x or Windows 95 (for the upgrade version)
DirectX 5.0 compatible graphic card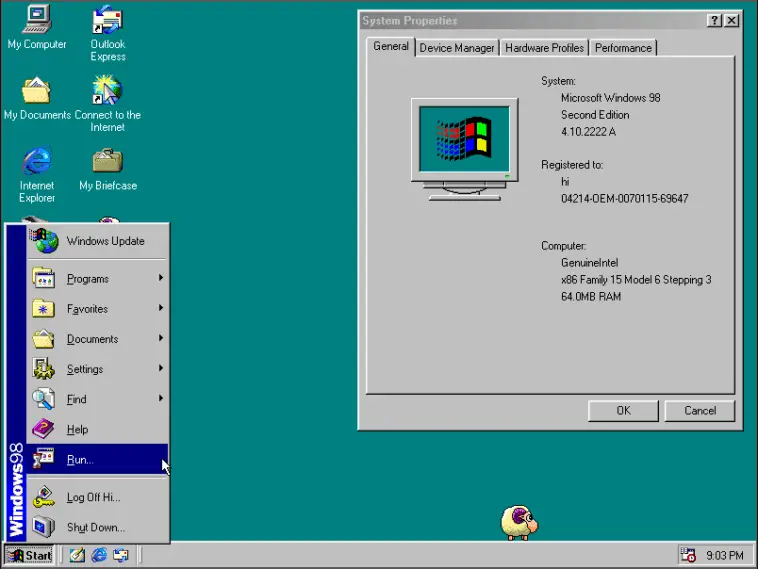 Windows 98 brought improvements to hardware support
Windows 98 was the first operating system to use the Windows Driver Model (WDM). This fact was not well-publicized when Windows 98 was released, and most hardware producers continued to develop drivers for the older VxD driver standard, which Windows 98 also supported. The WDM standard only achieved widespread adoption years later, mostly through Windows 2000 and Windows XP, as they are not compatible with the older VxD standard.
USB support
Windows 98 had more robust USB support (e.g. support for USB composite devices) than Windows 95 which only had support in OEM versions (OSR2.1 or later). Windows 98 supports USB hubs, USB scanners and imaging class devices. Windows 98 also introduces built-in support for some USB Human Interface Device class (USB HID) and PID class devices such as USB mice, keyboards, force feedback joysticks etc. including additional keyboard functions through a certain number of Consumer Page HID controls.
Advanced Configuration and Power Interface (ACPI)
Windows 98 introduced ACPI 1.0 support which enabled Standby (ACPI S3) and Hibernate (ACPI S4) states. However, hibernation support was extremely limited, and vendor-specific. Hibernation was only available if compatible (PnP) hardware and BIOS are present, and the hardware manufacturer or OEM supplied compatible WDM drivers, non-VxD drivers. However, there are hibernation issues with the FAT32 file system, making hibernation problematic and unreliable
Networking enhancements
Windows 98 networking enhancements to TCP/IP include built-in support for Winsock 2, SMB signing, a new IP Helper API, Automatic Private IP Addressing (APIPA) (also known as link-local addressing), IP multicasting (including IGMPv2 support and ICMP Router Discovery – RFC 1256), and performance enhancements for high-speed high bandwidth networks (TCP large windows and time stamps – RFC 1323, Selective Acknowledgement (SACK) – RFC 2018, TCP Fast Retransmit and Fast Recovery). Multihoming support with TCP/IP is improved and includes RIP listener support.
The DHCP client has been enhanced to include address assignment conflict detection and longer timeout intervals. NetBT configuration in the WINS client has been improved to continue persistently querying multiple WINS servers if it failed to establish the initial session until all of the WINS servers specified have been queried or a connection is established.
Windows 98 SE (Second Edition)
On May 5, 1999, Microsoft released an improved version of Windows 98. It was simply called Microsoft Windows 98 Second Edition.
It includes fixes for many minor issues, improved WDM audio and modem support, improved USB support, the replacement of Internet Explorer 4.0 with Internet Explorer 5.0, Web Folders (WebDAV namespace extension for Windows Explorer), and related shell updates. Also included is basic OHCI-compliant FireWire (IEEE 1394a) DV camcorder support (MSDV class driver) and SBP-2 support for mass storage class devices, Wake-On-LAN support (if ACPI compatible NDIS drivers are present) and Internet Connection Sharing, which allows multiple computers on a LAN to share a single Internet connection through Network Address Translation.
Other features in the update include DirectX 6.1 which introduced major improvements to DirectSound and the introduction of DirectMusic, improvements to Asynchronous Transfer Mode support (IP/ATM, PPP/ATM and WinSock 2/ATM support), Windows Media Player 6.2 replacing the older Media Player, Microsoft NetMeeting 3.0, MDAC 2.1 and WMI. A memory overflow issue was resolved which in the older version of Windows 98 would crash most systems if left running for 49.7 days (equal to 232 milliseconds). Windows 98 SE could be obtained as a retail upgrade or full version packages, as well as OEM and a Second Edition Updates Disc for existing Windows 98 users. Windows 98 Second Edition did not ship with the WinG API or RealPlayer 4.0 unlike the original release of Windows 98, due to both of these being superseded by DirectX and Windows Media Player.
External references