HAN, Home Area Network, is a network that facilitates communication among devices with network capabilities within the close vicinity of a home.
What is HAN (Home Area Network)?
HAN, Home Area Network, is a type of network that allows different computers and other network devices in any room to share resources, including the internet access.
Today, almost every house have a router who provides internet access to all devices with TCP/IP connection. That includes the traditional computer or laptop, smartphones, smart-TVs, game consoles, security cameras, and even the latest home appliances (IoT).
A typical architecture of a Home Are Network: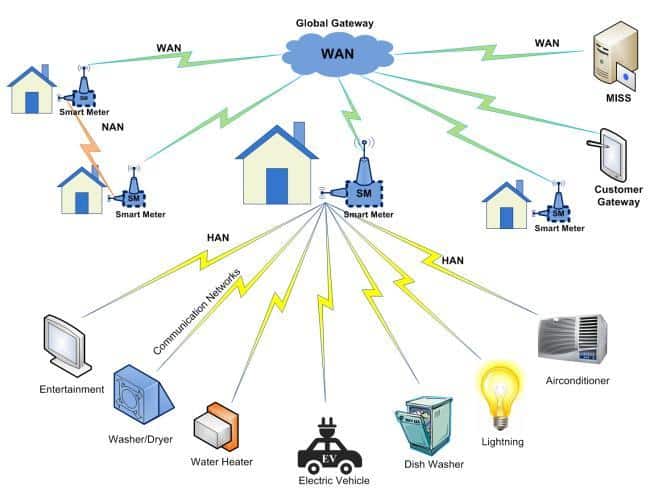 Currently (2019), Internet Service Providers offer fiber-optic network directly to our home providing a very fast service for TV streaming, gaming and VoIP services. All communications run through a TCP/IP connection between our home router and our Internet Service Provider.
Inside our home, we usually have one or more wireless access points to ensure full wi-fi signal coverage.
Devices and Services
Computers such as desktops, laptops, netbooks, and tablets
Network-attached storage (NAS) device
Network Printers
Smartphones connected via Wi-Fi
Smart speakers
Smart TV's and DVRs (access to services such as Netflix and YouTube)
Stereo systems with network connectivity that allow a user to easily access their music library stored on a PC or NAS
Video game consoles for multiplayer games and social network integration
Security alarms
Garage door and gate openers
HVAC (keeping your house warm or cold)
Smoke/CO detectors
Media Players or Streaming Devices like Apple TV (read our lastest Apple TV 4K review 2019)