Definition of Internet Locator Service (ILS) in Network Encyclopedia.
What is ILS (Internet Locator Service)?
ILS stands for Internet Locator Service, is a Lightweight Directory Access Protocol (LDAP) directory service running on a server that lets users of Microsoft NetMeeting locate and contact other NetMeeting users to conference and collaborate over the Internet or over a private TCP/IP internetwork. The Internet Locator Service (ILS) replaces the earlier User Locator Service (ULS) technology.
How it works
Microsoft Commercial Internet System (MCIS) has an ILS service that functions as a memory-resident database for storing dynamic directory information about NetMeeting users. This information, which includes a user's name, company, and IP address, is stored in an Active Directory Global Catalog and can be accessed by any LDAP client, such as NetMeeting.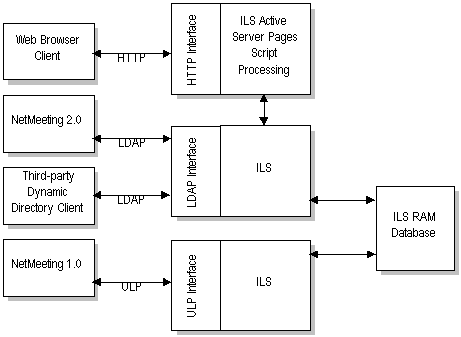 Clients periodically refresh the information in the ILS database. Users can access the ILS using LDAP to place a call to other NetMeeting users and to determine which NetMeeting users are currently logged on to the ILS.
Using Active Server Pages (ASP), you can design a customizable Web interface that displays who is currently online and allows users to search for other users and initiate NetMeeting sessions with them.