Management Information Format, or MIF, is a standard format for describing hardware and software desktop computer components that you use in conjunction with Desktop Management Interface (DMI) to manage networked PCs. The Management Information Format (MIF) and DMI were defined by the Distributed Management Task Force (DMTF), an organization composed of industry leaders whose aim is to lead the development, adoption, and unification of standards for managing systems.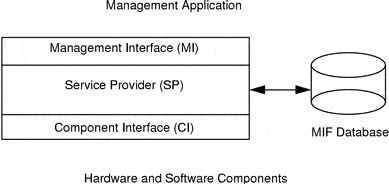 How It Works
The MIF database on a system contains a collection of MIF files that provides information about the various hardware and software components stored on the system. A program called a DMI Service Provider that runs locally and is resident on the computer being managed collects and manages the information from MIF files.
MIF files are text files that are supplied with each manageable hardware or software component installed on the system and that contain information about the attributes of that component. You can retrieve and display the information in the MIF database using a management interface (MI) utility.
Note
Microsoft Systems Management Server (SMS) uses six types of MIF files for collecting and storing information in the SMS database:
Personal Computer (.mif)
SMSEvent (.emf)
UserGroup (.umf)
JobDetails (.jmf)
PackageLocation (.pmf)
Custom architecture (.mif)
SMS can also use MIF files to add information to the SMS database about objects such as routers with custom architectures.
External references: