Definition of Migration Wizard in Network Encyclopedia.
What is Migration Wizard?
Migration Wizard is a tool in Microsoft Exchange Server for migrating mail users from other mail systems to Exchange.
How it works
The Migration Wizard uses source extractors to extract directory information and messages from the system to be migrated from, and formats the information as a set of migration files. You can then import these files to the Exchange server. The wizard includes built-in source extractors for the following:
Microsoft Mail for PC Networks
Lotus cc:Mail
Novell GroupWise
Netscape Collabra
You can obtain source extractors for other mail systems from their vendors or have them custom built. You can carry out migration in a single stage if you have all the associated connectors and gateways installed on your Exchange server, or you can do it in two stages if you do not have sufficient administrative resources to perform the entire migration at once.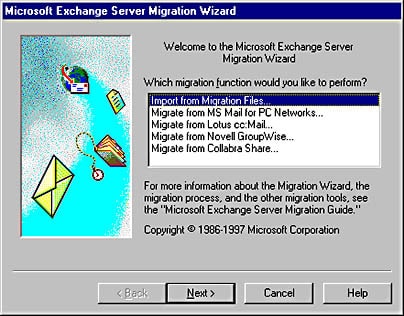 When to Use the Wizard
You can only migrate mailboxes from the source server if the source server is not part of the same Exchange 2003 organization as the server that is running the Migration Wizard.
What is the difference between Intraorganizational- and Interorganizational Migration?
Intraorganizational migration: The mailboxes will be migrated between Exchange Servers in ONE Exchange Organization.
Interorganizational migration: The mailboxes will be migrated between Exchange Servers in DIFFERENT Exchange Organizations.
You can start the Migration Wizard by clicking Start – Microsoft Exchange – Deployment – Migration Wizard (MAILMIG.EXE).
For the step-by-step guide click here.