Definition of Microsoft Exchange Server in the Network Encyclopedia.
What is Microsoft Exchange Server?
Exchange Server is Microsoft's client/server messaging system for Windows Server family.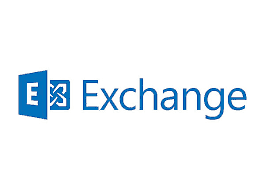 Exchange Server supports all key industry messaging standards, including the following:
Exchange clients are available for all the popular operating systems, including the following:
MS-DOS, Windows 3.x , Windows 95, Windows 98, Windows NT, and Windows 2000
The popular client Microsoft Outlook complements Exchange Server by providing users with a full desktop information-management tool for managing messages, appointments, tasks, and contacts.
Exchange Server is designed for mission-critical enterprise-level messaging solutions and includes such features as
Intelligent message rerouting
Transaction-based directory services
Fault-tolerant message store
Built-in server and link monitoring tools
Connectors and gateways for connectivity with foreign mail systems
Exchange Server can coexist with most popular mail systems and can be used for messaging connectivity with the following:
Microsoft Mail
Internet mail (SMTP)
X.400
Lotus cc:Mail
IBM PROFS and SNADS
How It Works
A company's Exchange organization is divided into sites, each of which has one or more Exchange servers. Site connectors provide connectivity between permanently connected sites, and you can use other connectors to establish messaging connectivity with foreign mail systems and over dial-up Remote Access Service (RAS) connections. Exchange Server offers public folders for document sharing and management, and address book views provide users with custom lists of recipients. An entire Exchange organization can be managed from a single workstation running the Exchange Administrator program. Clients can access their mailboxes from standard clients such as Outlook or standard Web browsers such as Microsoft Internet Explorer using the Outlook Web Access feature.
The core components of Exchange Server and other messaging components are implemented as Windows NT services. The four core components of Exchange Server are as follows:
Exchange directory service
Exchange Message Transfer Agent service
Exchange Information Store service
Exchange System Attendant service
NOTE
---
Exchange Server 4 natively supported the SMTP, MIME, MAPI, X.400, and X.500 messaging standards. Exchange Server 5.0 supported additional Internet standards such as POP3 for mailbox access, SMTP for Internet mail, NNTP for Usenet newsgroups, LDAP for X.500 directory access, HTTP and HTML for Web browser access, and SSL for secure authentication and encryption. Exchange Server 5.5 has added support for Microsoft Cluster Server, IMAP4, S/MIME, Key Management, Virtual Organizations, and unlimited message store size.
Web References