Definition of My Network Places in the Network Encyclopedia.
What is My Network Places?
My Network Places is a desktop folder in Microsoft Windows Explorer that displays the networking connectivity of your machine. You can use My Network Places to connect to shared folders on other computers on the network.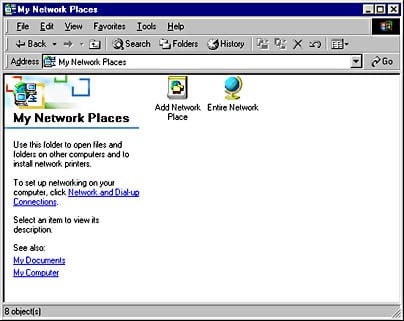 My Network Places was formerly known as Network Neighborhood.
The My Network Places folder contains:
Add Network Place: Starts the Add Network Place Wizard. You use the wizard to create shortcuts to network resources such as shared folders, printers, and File Transfer Protocol (FTP) sites. 
Entire Network: Contains links to all computers on your network. 
Microsoft Windows Network: Included in Entire Network and provides access to computers belonging to Windows Server domains and Windows workgroups. 
Directory: Included in Entire Network and provides access to information on users, groups, and computers stored in Active Directory on domain controllers. 
Computers Near Me: Shows all computers in your local domain or workgroup. 
Shortcuts to other shared network resources that you have created using the Add Network Place Wizard.
TIP
---
If you right-click My Network Places and choose Properties, you can open your Network Connections folder, which displays the types of connections that your computer has with local area networks (LANs) or the Internet and allows you to configure these connections.
Since Windows Vista, My Network Places is removed in favor of an integrated "Network" node in Windows Explorer. This node can only enumerate network computers but can do so via WS-Discovery and UPnP protocols, in addition to SMB.