Terminal Services is one of the components of Microsoft Windows that allow a user to take control of a remote computer or virtual machine over a network connection.
Terminal Services reduces total cost of ownership by:
Simplifying system administration by centralizing the installation and management of all applications on the server and supporting full remote administration from a single desktop
Extending the life of legacy hardware by enabling client computers with minimum processing power and memory to run standard Windows applications
Extending the life of legacy operating systems
Increasing security by using encrypted sessions between clients and servers, by enabling administrators to fully monitor and control user operations by shadowing client sessions from another client computer, and by enabling administrators to input keyboard and mouse actions during client sessions for remote control purposes
After 2008, this feature was renamed Remote Desktop Services (RDS).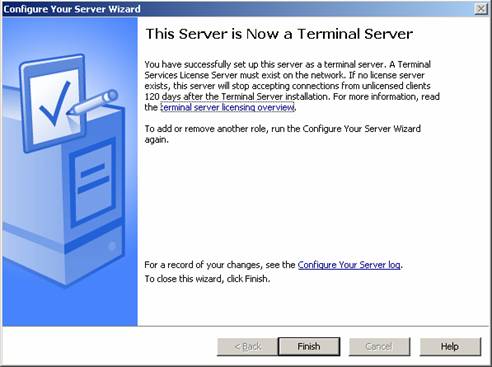 In Windows Server 2008 R2, all Remote Desktop Services role services have been renamed. The following table lists both the former name and the new name of each Remote Desktop Services role service.
| Previous name | Name in Windows Server 2008 R2 |
| --- | --- |
| Terminal Services | Remote Desktop Services |
| Terminal Server | Remote Desktop Session Host (RD Session Host) |
| Terminal Services Licensing (TS Licensing) | Remote Desktop Licensing (RD Licensing) |
| Terminal Services Gateway (TS Gateway) | Remote Desktop Gateway (RD Gateway) |
| Terminal Services Session Broker (TS Session Broker) | Remote Desktop Connection Broker (RD Connection Broker) |
| Terminal Services Web Access (TS Web Access) | Remote Desktop Web Access (RD Web Access) |
| Terminal Services Virtualization | Remote Desktop Virtualization Host (RD Virtualization Host) |
Remote Desktop Services (formerly known as Terminal Services) provides functionality similar to a terminal-based, centralized host, or mainframe, environment in which multiple terminals connect to a host computer. Each terminal provides a conduit for input and output between a user and the host computer. A user can log on at a terminal, and then run applications on the host computer, accessing files, databases, network resources, and so on. Each terminal session is independent, with the host operating system managing conflicts between multiple users contending for shared resources.
The primary difference between Remote Desktop Services and the traditional mainframe environment is that the dumb terminals in a mainframe environment only provide character-based input and output. A Remote Desktop Connection (RDC) client or emulator provides a complete graphical user interface including a Windows operating system desktop and support for a variety of input devices, such as a keyboard and mouse.
In the Remote Desktop Services environment, an application runs entirely on the Remote Desktop Session Host (RD Session Host) server (formerly known as a terminal server). The RDC client performs no local processing of application software. The server transmits the graphical user interface to the client. The client transmits the user's input back to the server.
Remote Desktop Protocol
RDP is based on, and an extension of, the ITU T.120 family of protocols. RDP is a multiple-channel capable protocol that allows for separate virtual channels for carrying device communication and presentation data from the server, as well as encrypted client mouse and keyboard data. RDP provides an extensible base and supports up to 64,000 separate channels for data transmission and provisions for multipoint transmission.
On the server, RDP uses its own video driver to render display output by constructing the rendering information into network packets by using RDP protocol and sending them over the network to the client. On the client, RDP receives rendering data and interprets the packets into corresponding Microsoft Windows graphics device interface (GDI) API calls. For the input path, client mouse and keyboard events are redirected from the client to the server. On the server, RDP uses its own keyboard and mouse driver to receive these keyboard and mouse events.