V.35 is a serial transmission standard that supports distances up to 1200 meters and up to 1.544 Mbps. Read more to learn about this topic.
What is V.35?
V.35 is a serial transmission standard that defines a physical interface for synchronous communication between data terminal equipment (DTE) and data communications equipment (DCE). V.35 was part of the V series standards developed by the International Telecommunication Union (ITU).
V.35 supports transmissions of up to 1.544 Mbps at distances of up to 1200 meters by using balanced lines for signaling and unbalanced lines for control. The V.35 interface is typically used to connect high-speed routers to Channel Service Unit/Data Service Units (CSU/DSUs) for communication over leased lines such as T1 lines. V.35 uses a block-shaped 34-pin block connector for DTE-to-DCE connections.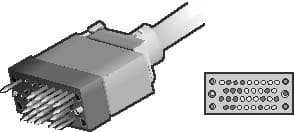 V.35-to-RS-232
You can sometimes use V.35-to-RS-232 gender changers to connect V.35 equipment using 25-pin (DB25) serial cables.
V.35 still in use
Although the V.35 standard was replaced by the V10 and V11 standards in 1988, it still remains in use by some installations. You can still buy V.35 cables on Amazon
CAB-V35MT Serial Cable Assembly example