Definition of Microsoft Connection Manager (CM) in the Network Encyclopedia. (obsolete)
What is the Microsoft Connection Manager?
Microsoft Connection Manager is a client dialer for connecting to network resources on public networks or secure private networks over the Internet. Microsoft Connection Manager (CM) resides on top of Network and Dial-up Connections and simplifies network access. It is available for Microsoft Windows 95, Windows 98, Windows NT, and Windows 2000 and can be customized using the Connection Manager Administration Kit (CMAK).
Using the Connection Manager dialer, an employee or subscriber can establish a connection to the Internet or to a private company network. Connections can also be customized. For example, the dialer can automatically toggle Point-to-Point Tunneling Protocol (PPTP) on or off based on the network access phone number selected. By dialing an Internet service provider (ISP) phone number and enabling PPTP, employees can have transparent access to their corporate network through an encrypted tunnel over the Internet.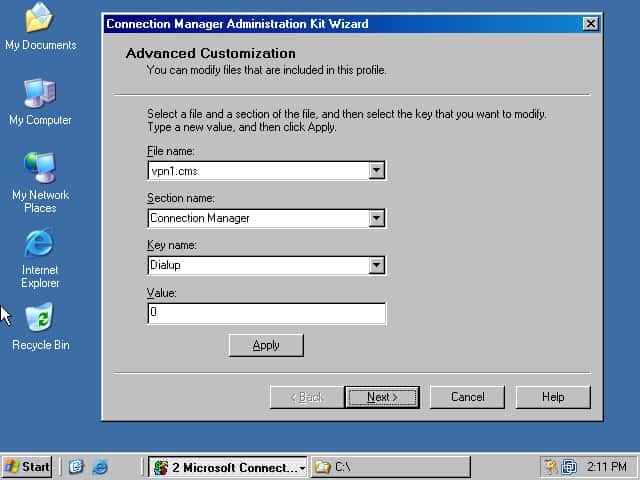 Connection Manager resides on the client machine and is used for connecting to points of presence (POPs) for Internet access provided by the company or ISP. Connection Manager's features include the following:
Wizard-based administration
POP and RAS phone books
Automatic disconnect and redial
Multiple custom service profiles