Definition of Add/Remove Programs in Network Encyclopedia.
What is Add/Remove Programs
Add/Remove Programs is a Control Panel utility in Microsoft Windows 95, Windows 98, Windows NT, Windows 2000, Windows ME and Windows XP that lets you install and remove applications from your system.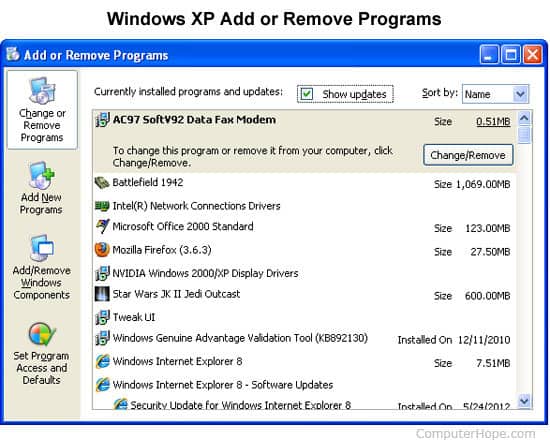 Using this utility you can:
Configure your Windows operating system by installing or removing optional Windows components.
Install programs from floppy disk, CD-ROM, or network share point. For Windows 2000, you can also install programs from Microsoft over the Internet.
Uninstall programs and their registry settings for previously installed programs.
Create a startup disk for troubleshooting purposes (Windows 95 and Windows 98 only).
Programs and Features
In Windows Vista and Windows 7, this feature was renamed to Programs and Features. Then, in the latest Microsoft Operating System, Windows 10, this feature is called Apps & features.
If you are short on disk space, use Add/Remove Programs to remove seldom-used components of Windows from your hard drive.