Interface Converter is any device that converts one hardware interface to another. These devices are generally stand-alone, powered devices for midline use or rack-mounted devices for use in wiring closets. There are interface converters for serial and parallel interfaces, asynchronous and synchronous communication, half-duplex and full-duplex communication, single-node and host converters, copper and fiber-optic converters, AC-powered or interface-powered devices, and so on.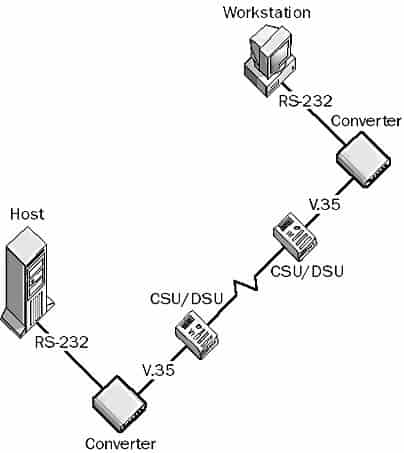 Examples of interface converters include the following:
RS-232 to RS-422 serial interface converters for directly connecting the RS-232 serial interface of a computer to an RS-422 programmable logic controller for synchronous data transmission. If handshaking is required, you should use an RS-232 to RS-422/449 serial interface converter instead.
RS-232 to RS-422/485 serial interface converters that allow RS-422/485 data collection equipment or industrial measurement devices to be connected to a computer using its built-in RS-232 serial interface. Alternatively, you can install an interface card in the computer to allow it to connect directly with the RS-422/485 device.
RS-232 to V.35 serial interface converters for connecting RS-232 devices to V.35 lines.
Small Computer System Interface (SCSI) to parallel converter for connecting SCSI peripherals to an Enhanced Capabilities Port (ECP)/Enhanced Parallel Port (EPP) parallel port.
Interface converter on Amazon: