Definition of JACK in The Network Encyclopedia.
What is Jack (in computer networking)?
A receptacle into which you can insert a connector or plug to form a connection. An example is a category 5 (CAT5) jack, which can be attached to twisted-pair cabling and which accepts an RJ-45 connector. Jacks are usually built into networking devices such as hubs and switches, but in some modular expandable devices jacks can be inserted and removed to support different kinds of connectors.
Patch panels and wall plates are other examples of items that can be modular and can be configured by inserting different kinds of jacks into them. This modularity allows flexibility for networks that must be reconfigured frequently, such as classroom computer networks.
This kind of Jack is frequently called KEYSTONE JACK.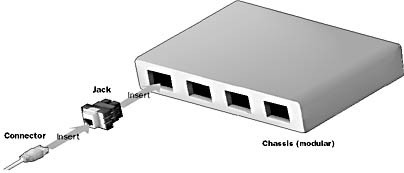 The main advantage of keystone connectors is their versatility. Several types of keystone jack can be mounted on a single patch panel. They are available in unshielded and shielded forms, and can accommodate cords and cables having various numbers of conductors.
The term keystone derives from the characteristic shape of the jack, resembling the standard RJ-11 wall jack used to connect telephone sets, fax machines, and dial-up computer modems to conventional telephone lines.