Definition of TN3270 in Network Encyclopedia.
What is TN3270?
TN3270, or Telnet 3270, is a form of Telnet service that enables access to mainframe hosts over a TCP/IP network. By using Microsoft SNA Server, users running a TN3270 client can connect to mainframe computers using the TN3270 service included with SNA Server.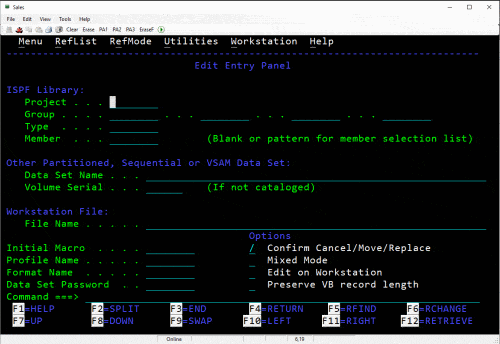 How TN3270 (Telnet 3270) Works
TN3270 (Telnet 3270) was developed as an alternate to the regular Telnet service for accessing mainframe computers.
TN3270 provides a better look and feel than standard Telnet, but its numeric field handling and keyboard interface are somewhat clumsy.
TN3270 provides keyboard emulation and block-mode service at the client level, thus freeing the mainframe from translation functions. TN3270 provides workstation emulation only and does not include file-transfer or printer-emulation services.
You can also use TN3270 to connect to AS/400 systems, but the AS/400 systems must translate the 3270 data stream into 5250 format and provide keyboard mapping between the 3270 and 5250 key sequences, a process that consumes additional CPU resources on the AS/400.
TN3270 Plus
TN3270 Plus has the features of large expensive products in a tight efficient package for outstanding performance with minimal resource usage. For example, use Chinese and Japanese code pages to input and display Chinese or Japanese characters, automate common tasks with the scripting language or connect up to 99 terminal or printer emulation sessions of any type in any combination at the same time. Use WinHLLAPI or DDE to allow your applications to interface with TN3270 Plus. Use the TN3270 Plus FTP client for quick and easy file transfers. SSL and SSH support allow secure connections.
TN3270 Plus supports Windows 10 (32-bit and 64-bit), 8 (32-bit and 64-bit), Server 2012, 7 (32-bit and 64-bit), Vista (32-bit and 64-bit), Server 2008, Server 2003, XP and 2000. A common interface to these operating systems allows the deployment of the product throughout your enterprise without the support costs associated with multiple user interfaces. You may tailor the desktop interface to your specifications with keyboard mapping, color definition and customizable ASCII to EBCDIC translation tables.
You can purchase TN3270 Plus Secure Telnet Terminal Emulation for Windows from SDI website or Mocha TN3270 for Windows 7/8/10 from MochaSoft.