Definition of GLOBAL CATALOG Network Encyclopedia.
What is Global Catalog?
A Microsoft Windows 2000 service and store that contains a partial replica of Active Directory information from all domains in your enterprise forest. The global catalog enables users to easily locate objects in any domain with maximum speed and minimum network traffic.
In effect, the global catalog acts as a kind of index for looking up objects stored in Active Directory anywhere on your network. You can search the global catalog for Active Directory objects by using the Find dialog box in Active Directory Users and Computers.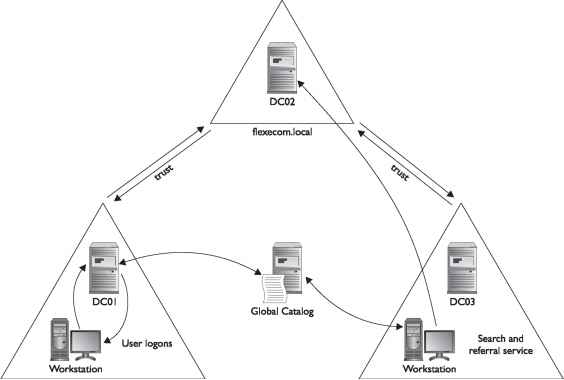 What is Global Catalog?
The global catalog resides on a selected group of the domain controllers in your Windows 2000 enterprise called global catalog servers. The administrative tool Active Directory Sites and Services is used to specify which domain controllers will host the global catalog – that is, which will be configured as global catalog servers. The global catalog is automatically created the first time you run the Active Directory Installation Wizard, and it is installed on the first domain controller in your root domain by default. The directory replication process controlled by Active Directory creates and maintains the contents of each global catalog server.
Every directory object in the entire enterprise is represented in the global catalog, but only a subset of the properties of each object is stored in the catalog. The properties represented are those most likely to be used as search attributes, such as the user's first or last name. However, administrators can specify storing additional object attributes in the catalog if desired. Having the global catalog store only a subset of an object's attributes in Active Directory improves the response time for performing search queries on Active Directory.
NOTE
---
You can modify which attributes are represented for objects in the global catalog by editing the schema of Active Directory, but you must do so with care. The global catalog also includes the access permissions for directory objects, so if you search for an object and it doesn't show up, you probably do not have permission to access the object.
TIP
---
In a geographically distributed enterprise, each physical site should have at least one domain controller to speed network traffic. Most Active Directory–related traffic is the result of queries on Active Directory, so the domain controller for small sites should also be configured as a global catalog server. This will reduce traffic over WAN links to other sites by allowing the global catalog server to locally resolve queries for information on directory objects from other domains.