Windows 2000 was a Microsoft operating system built on NT Technology for use on personal computers, business desktops, laptops, and servers.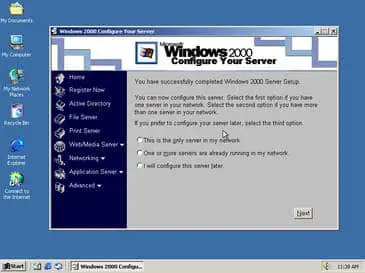 Windows 2000 was preceded by Windows NT 4 and Windows 98; it was succeeded by Windows XP, Windows 2003 Server.
Windows 2000 was released in February 2000
On December 15, 1999, Microsoft Corp. announced the release to manufacturing of the Microsoft Windows 2000 Professional, Windows 2000 Server, and Windows 2000 Advanced Server operating systems.
Hundreds of customers, PC manufacturers, and independent software and hardware vendors have signed off on the quality, performance, and reliability of Windows 2000, confirming that it is ready to ship to customers. Microsoft plans the general availability of Windows 2000 with a worldwide launch on Feb. 17, 2000.
NTFS 3.0 and Encrypting File System
Microsoft released the version 3 of NTFS as part of Windows 2000. This innovation introduced also disk quotas, file-system-level encryption, sparse files and reparse points.
Sparse files allow for the efficient storage of data sets that are very large yet contain many areas that only have zeros. Reparse points allow the object manager to reset a file namespace lookup and let file system drivers implement changed functionality in a transparent manner.
The Encrypting File System (EFS) introduced strong file system-level encryption to Windows. It allows any folder or drive on an NTFS volume to be encrypted transparently by the user. EFS works together with the EFS service, Microsoft's CryptoAPI and the EFS File System Runtime Library (FSRTL). Up to this date, its encryption has not been compromised.
How Encrypting File System works?
EFS works by encrypting a file with a bulk symmetric key (also known as the File Encryption Key, or FEK), which is used because it takes less time to encrypt and decrypt large amounts of data than if an asymmetric key cipher were used.
The symmetric key used to encrypt the file is then encrypted with a public key associated with the user who encrypted the file, and this encrypted data is stored in the header of the encrypted file.
To decrypt the file, the file system uses the private key of the user to decrypt the symmetric key stored in the file header. It then uses the symmetric key to decrypt the file. Because this is done at the file system level, it is transparent to the user.
Distributed Link Tracking service
Windows 2000 also introduces a Distributed Link Tracking service to ensure file shortcuts remain working even if the target is moved or renamed.
The target object's unique identifier is stored in the shortcut file on NTFS 3.0 and Windows can use the Distributed Link Tracking service for tracking the targets of shortcuts, so that the shortcut file may be silently updated if the target moves, even to another hard drive.
Basic and dynamic disk storage
Windows 2000 introduced the Logical Disk Manager and the diskpart command line tool for dynamic storage. All versions of Windows 2000 support three types of dynamic disk volumes: simple volumes, spanned volumes and striped volumes:
Simple volume, a volume with disk space from one disk.
Spanned volumes, where up to 32 disks show up as one, increasing it in size but not enhancing performance. When one disk fails, the array is destroyed. Some data may be recoverable. This corresponds to JBOD and not to RAID-1.
Striped volumes, also known as RAID-0, store all their data across several disks in stripes. This allows better performance because disk reads and writes are balanced across multiple disks. Like spanned volumes, when one disk in the array fails, the entire array is destroyed (some data may be recoverable).
In addition to these disk volumes, Windows 2000 Server, Windows 2000 Advanced Server, and Windows 2000 Datacenter Server support mirrored volumes and striped volumes with parity:
Mirrored volumes, also known as RAID-1, store identical copies of their data on 2 or more identical disks (mirrored). This allows for fault tolerance; in the event one disk fails, the other disk(s) can keep the server operational until the server can be shut down for replacement of the failed disk.
Striped volumes with parity, also known as RAID-5, functions similar to striped volumes/RAID-0, except "parity data" is written out across each of the disks in addition to the data. This allows the data to be "rebuilt" in the event a disk in the array needs replacement.
Windows 2000 versions
Microsoft released four editions of Windows 2000:
Windows 2000 Professional
A desktop operating system that replaces Windows NT Workstation 4 and builds on the ease-of-use of Windows 98 and the power and reliability of Windows NT. It was also the client version of the Windows 2000 Server. Windows 2000 Professional includes the following features:
Wizards for simplifying system configuration and common system maintenance tasks, and time-saving improvements for the user interface, including Microsoft Internet Explorer 5, an integrated Web browser
Features for mobile users, including Advanced Configuration and Power Interface (ACPI) support for laptop power management and offline files, and Synchronization Manager for remote use of network resources
Support for 4-GB RAM, two-way symmetric multiprocessing (SMP), universal serial bus (USB) and IEEE 1394 interfaces, Microsoft DirectX 7, OpenGL 1.2, video port extensions, and digital versatile disc (DVD) and smart card technologies
IntelliMirror client for deployment and maintenance in conjunction with Windows 2000 Server
Local data protection using the Encrypting File System (EFS)
Support for TCP/IP virtual private networking using Point-to-Point Tunneling Protocol (PPTP), Layer 2 Tunneling Protocol (L2TP), and Internet Protocol Security (IPSec)
Add-on Windows Services for UNIX components for interoperability with UNIX networking environments, including a Network File System (NFS) client and server, Telnet client and server, scripting tools, and password synchronization features
Windows 2000 Server
It has the same user interface that Windows 2000 Professional, but contains additional components for server roles. A significant new component introduced in the server versions is Active Directory, which is an enterprise-wide directory service based on LDAP (Lightweight Directory Access Protocol). Its features include the following:
Active Directory, a directory service based on the X.500 directory specifications that simplify centralized, one-point management of distributed network resources.
Windows Management Tools, which are snap-ins for the Microsoft Management Console (MMC). MMC provides a unified interface for managing enterprise-level network resources.
Enhanced Internet services, including Hypertext Transfer Protocol (HTTP), File Transfer Protocol (FTP), Simple Mail Transfer Protocol (SMTP), Domain Name System (DNS), and Network News Transfer Protocol (NNTP) server support through Internet Information Services (IIS).
Windows Terminal Services for running terminal emulation on thin clients, replacing Windows NT Server, Terminal Server Edition.
Four-way SMP support.
Enhanced COM+ component services.
Support for Kerberos and public key infrastructure (PKI) security services.
Windows 2000 Advanced Server
A powerful server operating system that replaces Windows NT Server 4, Enterprise Edition, Windows 2000 Advanced Server is designed for enterprise-level networking environments that require high availability and scalability. Its features include all those in Windows 2000 Server, Standard Edition, plus the following:
Support for up to 64-GB RAM (through Intel's Physical Address Extensions) and eight-way SMP
Network-based and component-based load balancing with failover clustering
High-performance sorting
Windows 2000 Datacenter Server
Designed to be the high end of the Windows 2000 Server family when it is released. It will support all features of Windows 2000 Advanced Server plus advanced clustering and 16-way SMP, with 32-way SMP available through original equipment manufacturers (OEMs).
While each edition of Windows 2000 was targeted at a different market, they shared a core set of features, including many system utilities such as the Microsoft Management Console and standard system administration applications.